Our App Design and Development team is in search of its future teammates!
We are looking for experienced Back End Developers that are confident in their knowledge of Java technologies.
You'll be joining a team of equally passionate and skilled engineers, architects, and cloud gurus who are working with the latest technologies on some of the most interesting projects.
If working in an enthusiastic team using the latest cutting-edge technologies appeals to you and you tick most of the boxes down below then we want to hear from you!
THE JOB
As a Java Developer, your primary focus will be the development of all server-side logic, definition, maintenance of databases, and ensuring high performance and responsiveness to requests from the front-end. This includes fostering and supporting our agile development culture while being responsible for:
Proposing and designing software solutions to address complex business needs
Integrating the front-end elements built by your coworkers into the application
Code reviewing, testing, and documenting
Collaborating with other developers and engineers to define, design, and ship new features
YOUR PROFILE
You are a creative problem-solver who will actively drive problems to resolution
You possess strong analytical skills and are willing to learn new technologies
You have strong interpersonal and communication skills (written and verbal) with the ability to assess and clearly communicate business value, technical and project risk
You thrive in a fast-paced team-driven environment with minimal supervision
You have strong English skills – we work with U.S. based clients and effective communication in English is a must
Degree in Computer Science/Computer Engineering or equivalent is beneficial
REQUIREMENTS
3+ years of professional experience in development, including server and client-side scripting, and building APIs
Expertise and hands-on experience in Java, Spring, Hibernate, and related technologies
Extensive knowledge of relational databases (PostgreSQL)
A basic understanding of front-end technologies and platforms, such as JavaScript, TypeScript, React.js
Not required but nice to have:
Knowledge of Test-Driven Design and Domain-Driven Design principles
WHAT WE OFFER
Competitive pay and bonuses driven by your own engagement and results
Access to the company's training program including language courses
Strong opportunity for advancement with a long-term career path
A modern high-tech office in the city center with a well-stocked kitchen
Relaxing break room with gadgets for team building downtime!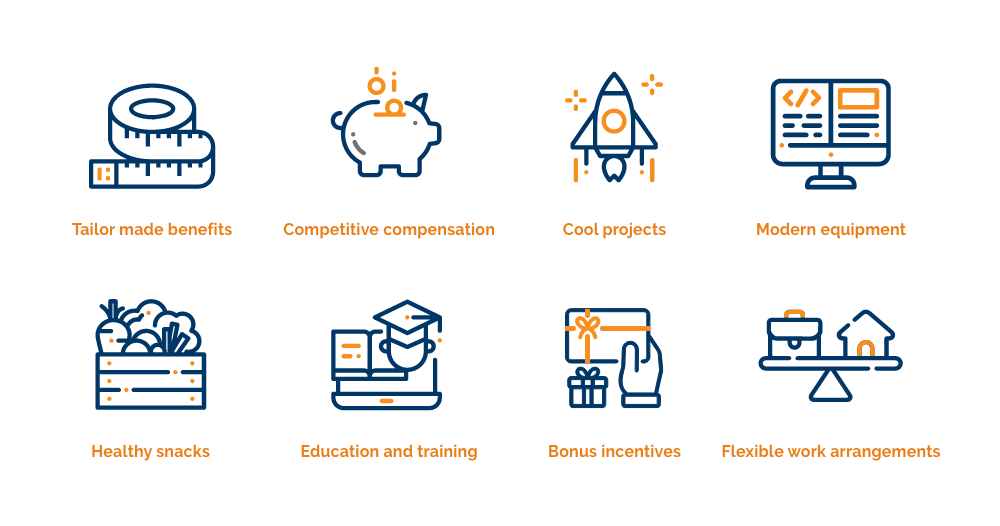 Send us your CV now and let's see if we're both a good fit!