iOLAP is expanding its App Design & Development team with an exciting new opportunity! 
We are looking for a  Business Analyst who would be responsible for managing project portfolios; gathering, organizing, and delivering business requirements; as well as assisting with business case and prioritization efforts.
iOLAP has grown into a leading end-to-end consulting company over the last 20 years. We have a dynamic team of 200+ talented individuals who are determined in delivering and supporting top-notch solutions. We have exhibited a passion for not only great apps but great people. That's why we offer a workplace where employees are given meaningful growth opportunities and rewarded for their loyalty and contributions.
THE JOB
Leads IT project definition and prioritization by working with stakeholders, developers, and internal and external customers
Assists in maintaining project portfolio roadmap and backlogs
Assists with developing business case and prioritization of features, enhancements, and project initiatives
Works with the cross-functional team to deliver business requirements via artifacts such as epics, features, user stories, acceptance criteria, wireframe diagrams, interaction diagrams, mockups, demos, etc.
Participates in / facilitates agile ceremonies including backlog grooming, demonstrations, and retrospectives
Engages with development team on agile values, principles, and practices
Facilitates communication with IT staff and Business customers to assist in the development, implementation, and support of technology solutions
YOUR PROFILE
Interpersonal skills. You can effectively communicate, interact and work with individuals on different levels.
Analytical and planning skills. You are able to track your workload and ensure everything is running smoothly.
Big-picture mentality. You are able to pivot quickly and make decisions based on the company's best interest, not that of an individual person or department.
Agile mindset.  Knowledge of Scrum and agile software development.
You are adaptable and able to respond quickly as well as shift reality to adjust priorities.
Problem-solving skills. You possess a combination of analytical, creative, critical thinking skills and a high level of attention to detail.
Team Player. Ability to work with large cross-functional teams.
REQUIREMENTS 
Prior experience as a Business Analyst or as a Project Owner on projects focused on software development is preferred
Experience working within an agile work environment
Knowledge of general business software and aptitude to learn new technologies and tools; proficiency in Microsoft 365 Suite
Strong English skills – we work with U.S. and UK based clients and effective communication in English is a must
Not required but nice to have: 
Bachelor's degree in Computer Science, Business Administration, or related field and/or equivalent work experience
Project management and/or Agile/Scrum certification a plus
WHAT WE OFFER
Career challenge powered by competitive pay and bonuses
Strong opportunity for advancement with a long-term career path
The resources and support to further your skills and career
Brilliant teammates, fascinating discussions, and a friendly atmosphere
A modern high-tech office in the city center with a well-stocked kitchen
Relaxing break room with gadgets for team building downtime!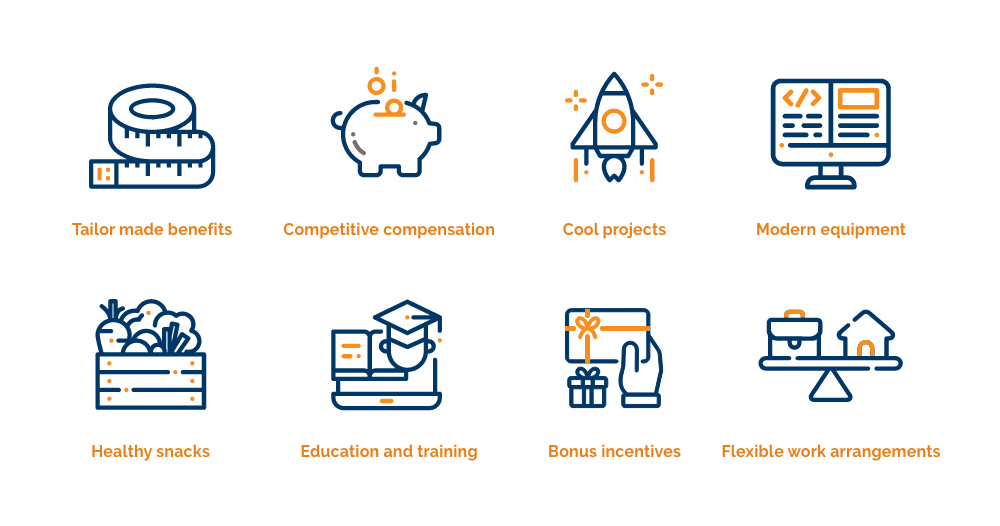 Send us your CV now and let's see if we're both a good fit!