Discover your opportunity to join our App Design & Development team, as we are currently searching for an experienced Android Developer!
Whether it's a web, mobile, or desktop application, our tech-experts work together to deliver top-notch solutions that are secure, scalable, and adaptive. We have exhibited a passion for not only great apps but great people. That's why we offer a workplace where employees are given meaningful growth opportunities and rewarded for their loyalty and contributions. 
THE JOB
As an Android developer you'll be responsible for the development and maintenance of applications for the Android platform. Your primary focus will be the development of Android applications and their integration with back-end services. You will be working along-side other engineers and developers working on different layers of the infrastructure. Therefore, commitment to collaborative problem solving, sophisticated design, and creating quality products is essential.
Responsibilities:
Translate designs and wireframes into high quality code
Design, build, and maintain high performance, reusable, and reliable Java code
Ensure the best possible performance, quality, and responsiveness of the application
Identify and correct bottlenecks and fix bugs
Help maintain code quality, organization, and automatization
YOUR PROFILE
Highly Driven. You are self-motivated with a strong sense of personal responsibility
Problem-solving. Stay updated with advancements and best practice and apply learned to future solution considerations
Quick on your feet. You enjoy working in a fast-paced, team-driven environment and are adaptable to new business demands
Analytical. You are able to see the big picture and be able to visualize data in the best possible way through charts/reports/dashboards.
Language proficiency. We are communicating across continents and working in an international environment, so we expect strong writing and verbal communication skills in English.
Proven software development experience and Android skills development

Proficiency in Java, Kotlin, or C++.
Ability to use the Android Studio, including the Android SDK, with ease

Excellent coding and proofreading skills

Ability to manage your workload with minimal supervision
WHAT WE OFFER
Competitive pay and bonuses, with an individually tailored benefits package
Flexible working hours and remote work
Career challenge in a place full of different opportunities and a wide range of projects for top companies from all major industries
The resources and support to further your skills and career  
Brilliant teammates, fascinating discussions, and a friendly atmosphere  
A modern high-tech office in the city center with a well-stocked kitchen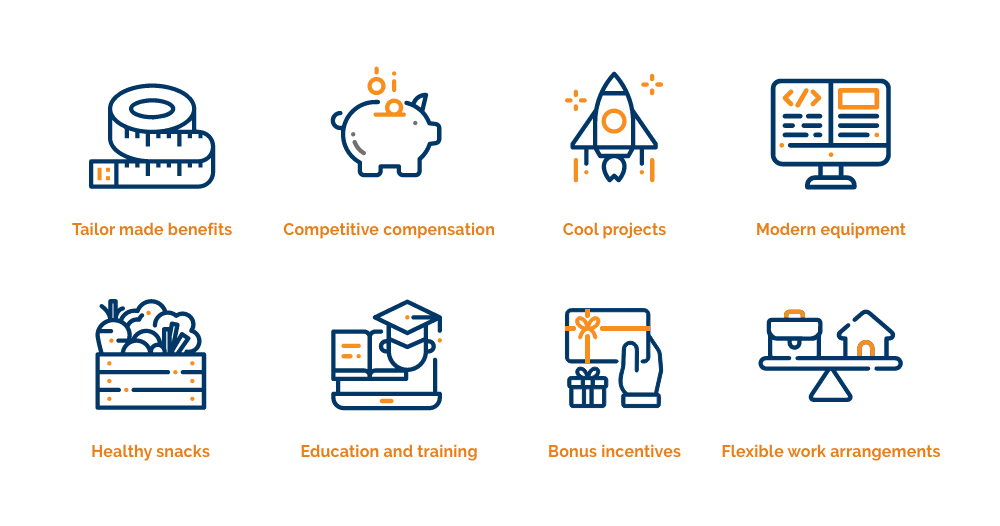 Send us your CV and let's see if we're both a good fit!