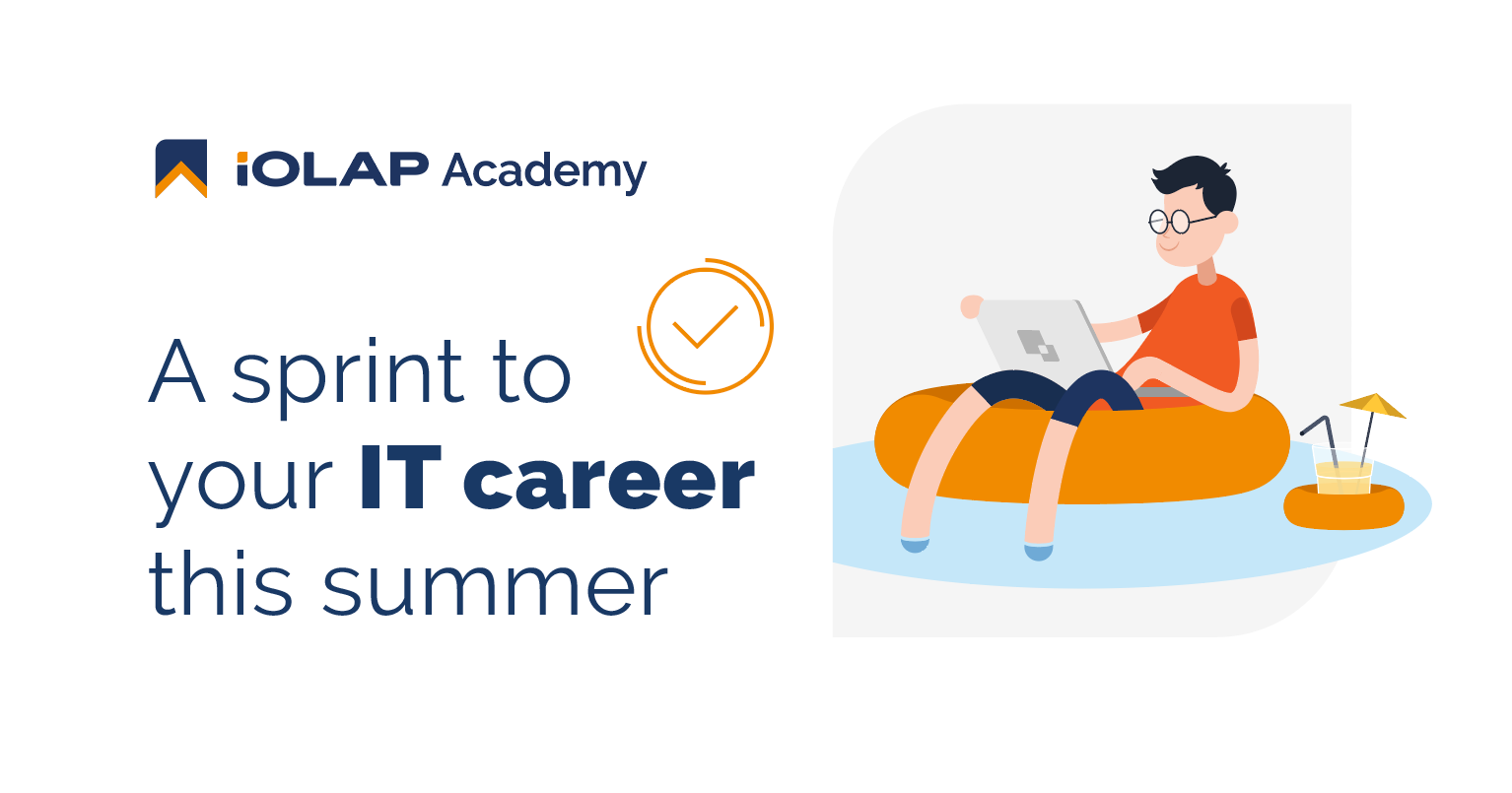 iOLAP Academy is a program inspired by young enthusiasts that want to get practical knowledge in the IT industry. The program kicked-off in 2021, in these two years 39 participants were a part of the Academy and most of them now work in the position they desire.
This course is designed as an elite program where we cherry pick those that fit our culture and work ethic. Our mentors are specialists in the field they will be presenting so you can expect to get a wonderful fresh start that will kick-start your IT career!
WHEN DOES THE ACADEMY START?
The Academy starts on July 31 and lasts until September 15 - full 7 weeks! On the last day, we will organize a graduation ceremony to celebrate together this big accomplishment.
DO I NEED TO HAVE EXPERIENCE TO JOIN THE ACADEMY?
No, the Academy is entry-level and for people who have basic technical knowledge which they want to expand. You don't need to have a diploma. If you are interested in technical studies and love to watch tutorials and try out some things in your free time – then you are the person for this program. We are searching for ambitious, motivated solution finders and team players.
HOW WILL THE PROGRAM LOOK LIKE?
We want you to get the real feeling of working at iOLAP, that is why we are organizing a welcome event on the first day of the Academy and a graduation event on the last day that will be held live at our Rijeka office. Other than that, you have a chance to pick to come to the office, work remotely or hybrid style.
iOLAP Academy is a dedicated program where all participants need to commit 8 hours each working day.
Our course is structured as a mix of lectures, mentoring sessions, home assignments and a final hands-on team project. We offer you an opportunity to learn from and with the best, try out your skills and gain irreplaceable experience. The focus will be on hands-on experience.
It is a short but effective program where you will be able to start your IT career after 7 weeks!
WHO ARE THE MENTORS ON THE ACADEMY?
The iOLAP Academy is an elite program whose curriculum was created by the best in the company. These experts will be your mentors and each group will have an expert that works daily with you on your tasks so they can share some real use cases and answer your questions.
WHAT IS THE COST OF THE ACADEMY?
The Academy is totally free! We want to give back to the community and this is one of the ways to do it.
WHAT WILL I BE LEARNING?
Data & Analytics
Learn about the newest trends in data engineering focused on AWS. Become a valuable data engineer that knows how to collect, transform, and analyze data in the cloud.
This course is meant for motivated individuals that have basic knowledge of SQL and/or Python and want to learn modern principles and best practices of using cutting edge technologies for data manipulation in AWS - including cloud solution architecting, data storage and processing.
Requirements to enter the course:
SQL basics
Python basics
English level B2 or higher
HOW MANY PARTICIPANTS WILL BE ON THE ACADEMY?
The plan is to have up to dozen participants. We want the Academy to stay elite and useful.
HOW DO I APPLY?
The first step is to apply on the opening "iOLAP Academy" on our career page. Your CV is required because we want to get to know you better! We would like to see your educational background, any previous work experience you might have (everything counts!). Any additional courses you've had or projects that you have done during or outside your studies. Maybe you are not a student at the moment, but a self-taught developer aiming to make their way into the IT industry – share your Github and let us see what you are working on.
Besides your CV, we have added some screening questions to the application form. Sometimes it is hard to tell from a CV alone about your main interests, expectations, and plans for the future, so we would appreciate your effort to tell us more.
IS THERE ANY SELECTION PROCESS INVOLVED?
In order to achieve and maintain the best quality of the program, the number of participants is limited. This means we have to have a selection process to choose the best candidates.
The first stage of the selection process will be a brief phone screening with someone from the recruitment team. This is a great opportunity for you to show off a range of skills and how motivated you are. You should be able to demonstrate a clear interest and explain why you think you would be a good fit for the iOLAP Academy.
The next step is an interview with our tech experts and someone from HR. The purpose of the interview is to assess your previous knowledge, relevant skills, and language competency to make sure you'll not have problems keeping up with the curriculum. And don't worry – we are not looking for experts and you don't need to have an answer to every question asked. As said before, just show us your thought process behind it and motivation to learn and we're sure you'll rock the interview!
WHAT IS THE DEADLINE TO APPLY?
July 16 at midnight.
Hope these information will help you get a better picture about the iOLAP Academy and if it suits your interests. If you may need any further info, please let us know at phanza@iolap.com.
If you are ready for the next step, apply now for the iOLAP Academy! - application form.