We are looking for a new colleague that will support our fast growth in the role of a UX/UI Designer!
As a UI/UX Designer, you will be a major contributor to the development and optimization of the visual journey and user experience of digital products that span multiple industries (insurance, finance, hospitality and ecommerce) across a multitude of technology platforms.
In return, we hope to provide you with your next challenge and a learning opportunity while working on interesting international projects in a stimulating and dynamic environment!
The UI/UX Designer will be responsible for facilitating, generating, and executing best-in-class user experiences, understanding the different business expectations, objectives, customers and projects. This includes gathering user requirements, designing graphic elements and creating intuitive user experiences.
You will collaborate with other developers, engineers and product owners as well as communicate with clients on a daily basis.
YOUR PROFILE
You are a subject matter expert on usability, user interface, and user experience design
You are passionate about beautiful, functional and accessible design
You have an eye for detail and are curious, motivated and eager to learn
You are familiar with wireframing, user research and user testing
You are a creative and self-driven individual who excels in a team-driven environment with minimal supervision
You are able to multitask and meet tight deadlines while delivering exceptional results
You have strong English skills - we work with U.S. based clients and effective communication in English is a must
REQUIREMENTS
Extensive experience in software and mobile application design
Experience in Adobe XD/Figma prototyping tool (or similar)
Experience with Adobe design software (Illustrator, Photoshop, InDesign, Premiere)
Understanding customer patterns, iOS Human Interface and Google Material Design guidelines
Ability to follow brand and design guidelines
Fluency in responsive design and design for native apps for mobile and tablet
Ability to think outside the box, but connect with strategic objectives
A portfolio that you love and can explain
Not required but beneficial:
Degree in graphic design or relevant field
Understanding basic concepts and restraints of HTML/CSS/JavaScript implementation
WHAT WE OFFER
Competitive pay and bonuses, with an individually tailored benefits package
Flexible working hours and remote work
The resources and support to further your skills and career
Brilliant teammates, fascinating discussions, and a friendly atmosphere
A modern high-tech office in the city center with a well-stocked kitchen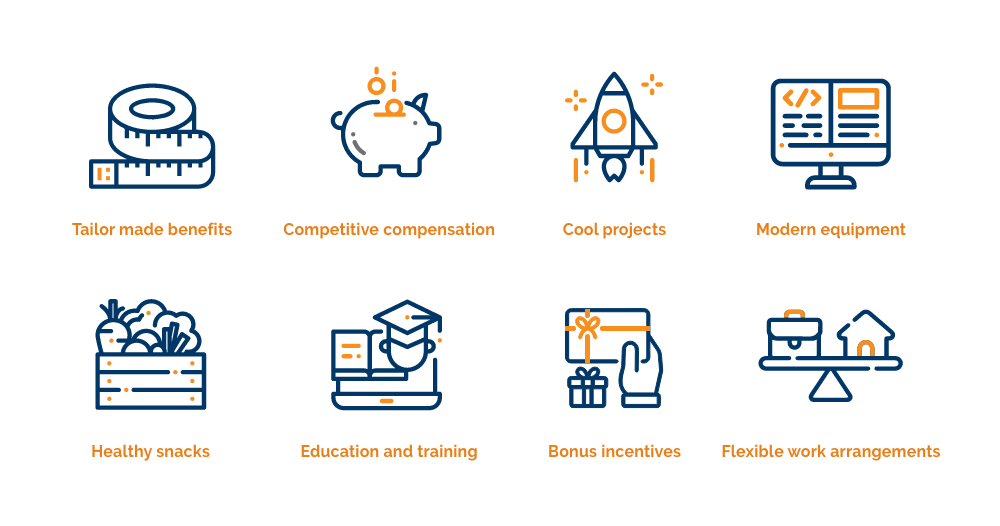 Apply now and let's see if we're both a good fit!