Are you a highly motivated leader who can establish an environment where a team can be the most effective? Do you pride yourself in your ability to mentor, clear obstacles and strategically plan to achieve the best outcome?
Then we are looking for you to join our team in the role of a Scrum Master!
As our Scrum Master, you will be working with a team of highly skilled and experienced engineers within our Application Design and Development team who can't wait for you to join them to reach amazing results and deliver outstanding solutions to drive business objectives.
Explore this exciting opportunity in a place full of unique challenges that are bound to lead you to career and professional success!  
THE JOB
You will facilitate the implementation of agile methodologies within our teams, foster and encourage successful teamwork and frequent communication to ensure a culture based on transparency, trust and high-level collaboration. This includes:
Ownership and accountability of establishing agile values, methods, principles and practices for the delivery of projects and products
Coaching and mentoring team members on agile standards and best practices e.g. Lean, Kanban, Scrum, XP, DevOps, SAFe, LeSS, etc. 
Configuring and maintaining agile project management tools (JIRA, Scrum Desk etc.)
Supporting the team to improve their technical work by reviewing results and establish lessons learned as well as track the improvement
Coordinating sprints, retrospective meetings and daily stand-ups
Facilitating internal communication and effective collaboration
Resolving conflicts and removing obstacles that occur
Helping teams implement changes effectively
Building productive environment where team members 'own' the product and enjoy working on it
YOUR PROFILE
Communication skills. Having excellent verbal and written communication skills is essential to ensure that there is proper communication between the development team, the stakeholders, and products that are delivered efficiently and adhering to deadlines
Agile Mindset, Growth Mindset. You understand that setbacks are part of the game when trying new ideas. You are able to teach and encourage the team to keep learning from the experiments.
Product focused. You understand the balance between speed of delivery and quality.
Adaptability. You enjoy working in a fast-paced, team-driven environment and are ready to meet the new business demands.
Leading and Facilitating Change. You must have a developed finesse in leading change and inspiring the team members to continuously improve their processes and practices through excellent facilitation skills + inspiration.
Language skills. Your English is proficient enough to communicate with clients – we work with U.S. based clients and effective communication in English is a must.
REQUIREMENTS
Previous experience working in agile environment

Familiarity with software development, preferably coming from IT background

Knowledge of Scrum techniques and artifacts (such as definition of done, user stories, automated testing, backlog refinement)

Risk Management skills

Planning skills
Excellent communication and leadership skills
Problem-solving and conflict-resolution ability
Scrum master certification is a plus
WHAT WE OFFER
Career

challenge powered by competitive pay driven by your own engagement and results  

An individually tailored benefits package based on your needs and preferences

Strong opportunity for advancement with a long-term career path  

Remote work and flexible hours

Brilliant teammates, fascinating discussions, and a friendly atmosphere

A modern high-tech office in the city center with a well-stocked kitchen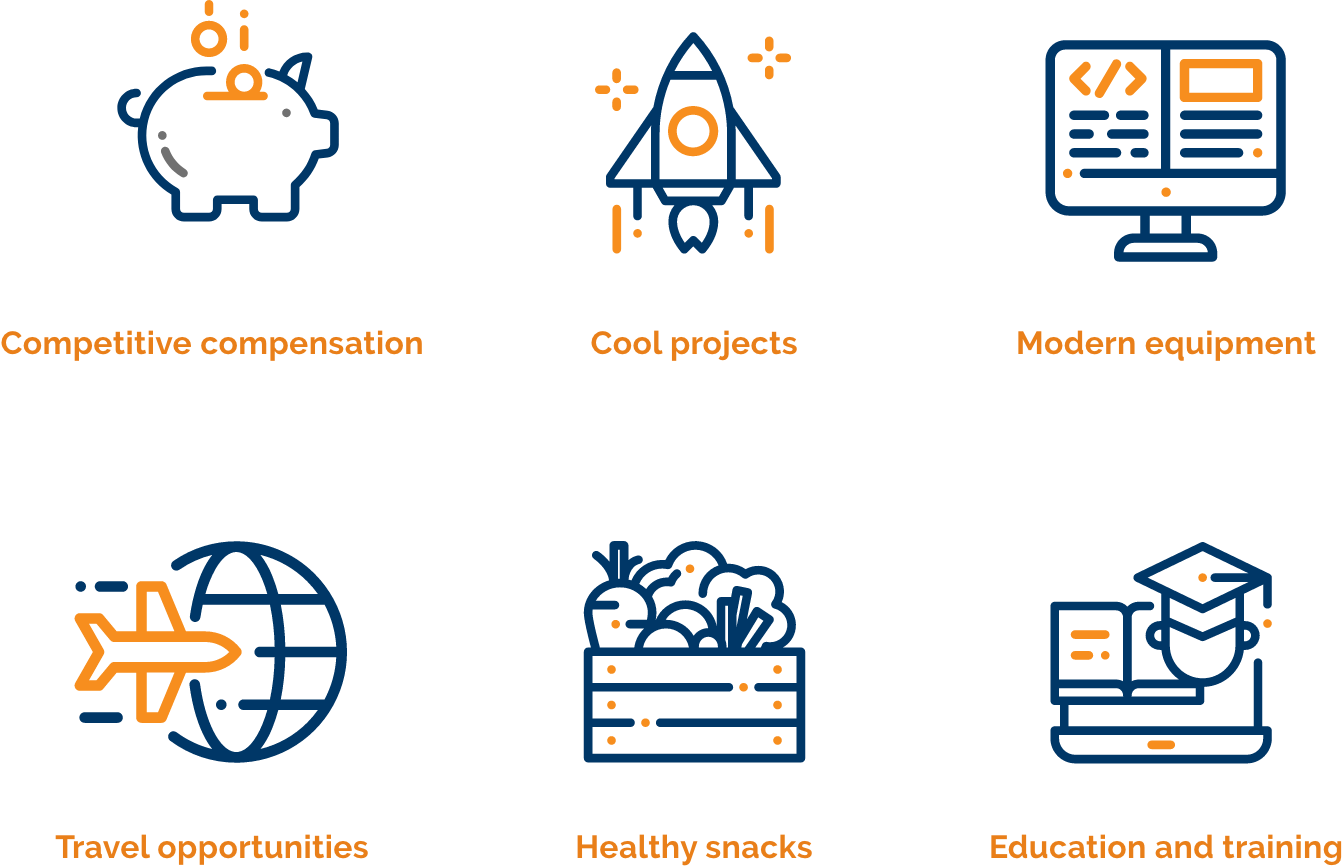 Send us your CV now and let's see if we're both a good fit!