We are looking for an Operations Manager to coordinate, oversee and ensure the smoothness of our company's operations!
iOLAP has grown into a leading end-to-end consulting company over the last 20 years. We have a dynamic team of 200+ talented individuals who are determined in delivering and supporting top-notch solutions.
We have exhibited a passion for not only great apps but great people. That's why we offer a workplace where employees are given meaningful growth opportunities and rewarded for their loyalty and contributions.
THE JOB
As an Operations Manager you'll work across departments to align teams, set goals, execute initiatives and improve processes. Your main goal will be to make sure department level success is contributing to larger, organization-wide goals, helping the organization run efficiently and effectively. This includes working on different projects ranging from high-level strategy to day-to-day operations.
Key responsibilities include, but not limited to:
Executing organizational strategic and tactical ops excellence initiatives
Managing staffing operations
Defining and reimagining internal policies and procedures
Driving business process automation across the organization
Supporting Business Development, Marketing, and Financial departments
Establishing and improving business partner ecosystem
Providing operational support for self-managed teams
Liaise with the global stakeholders
Execute growth and expansion strategies
YOUR PROFILE
Interpersonal skills. You can effectively communicate, interact and work with individuals on different levels.
Planning skills. You are able to track your workload and ensure everything is running smoothly.
Big-picture mentality. You are able to pivot quickly and make decisions based on the company's best interest, not that of an individual person or department.
Thinking ahead. You are proactive in your work approach and are able to assess opportunities or figure out if there is a gap in the business and act accordingly.
Agile mindset. You are adaptable and able to respond quickly as well as shift reality to adjust priorities.
Problem-solving skills. You possess a combination of analytical, creative, critical thinking skills and a high level of attention to detail.
REQUIREMENTS
Prior relevant experience in business, operations or project management or similar roles
3+ years of professional experience in the IT industry
Experience with performance metrics, process improvement, and Lean methodologies
Knowledge of general business software and aptitude to learn new technologies and tools; proficiency in Microsoft 365 Suite
WHAT WE OFFER
Career challenge powered by competitive pay driven by your own engagement and results  
An individually tailored benefits package based on your needs and preferences
Hybrid work location and flexible hours   
Brilliant teammates, fascinating discussions, and a friendly atmosphere  
A modern high-tech office in the city center with a well-stocked kitchen  
Relaxing break room with gadgets for team building downtime!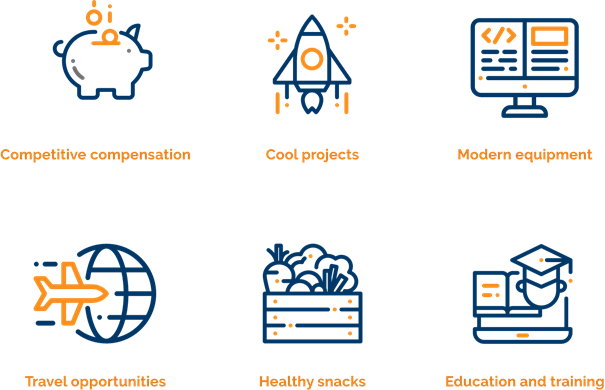 Don't wait, apply now and kick-off your career success!