We are looking for a new colleague to join our App & Development team!
If you are interested in working in a dynamic and stimulating international environment, we have an exciting new role for you! Whether it's a web, mobile, or desktop application, our tech-experts work together to deliver top-notch solutions that are secure, scalable, and adaptive. Our team ranges from designers, software engineers, DevOps, and business folks who collaborate in agile teams allowing for increased flexibility.

Join our solution builders on a global scale and explore your potential with iOLAP!

THE JOB
As a DevOps Engineer, you will have the opportunity to learn more about the process of building, deployment, and maintaining production infrastructure and services.
Your responsibilities will include:
You will gather extensive knowledge of how to develop and maintain company processes, tools, and documentation
You will have an opportunity to acquire hands-on experience with cloud technologies (AWS, Azure, etc.)
You will sharpen and upgrade your programming skills, preferably in Python
You will learn how to create and maintain CI/CD environments to facilitate an Agile development process
You will collaborate with developers, designers, QA, and product owners to analyze, design, and implement functionality in software products
YOUR PROFILE
You want to join a team of great developers and expand your knowledge
You are excited to try new technologies and develop your technical skillset
You have strong interpersonal and communication skills (written and verbal) with the ability to assess and clearly communicate business value, technical and project risk
You can learn complex technologies quickly and work in a fast-paced, team-driven environment
Your English is good enough to communicate with clients – we work with U.S. based clients and effective communication in English is a must
REQUIREMENTS
Basic or intermediate understanding of DevOps working principles and CI/CD practices
Understanding of computer networks fundamentals
General Linux knowledge
Previous exposure to Python / Node.js technologies
Good understanding of relational database design and concepts
Effective communication skills both written and verbal
Strong analytic and problem-solving skills
BENEFICIAL
Familiarity with cloud technologies (AWS, Azure, etc.)
Previous experience working with Docker
WHAT WE OFFER 
Competitive pay and bonuses, with an individually tailored benefits package
Flexible working hours
Working remotely
Career challenge in a place full of different opportunities and a wide range of projects for top companies from all major industries
The resources and support to further your skills and career  
Brilliant teammates, fascinating discussions, and a friendly atmosphere  
A modern high-tech office in the city center with a well-stocked kitchen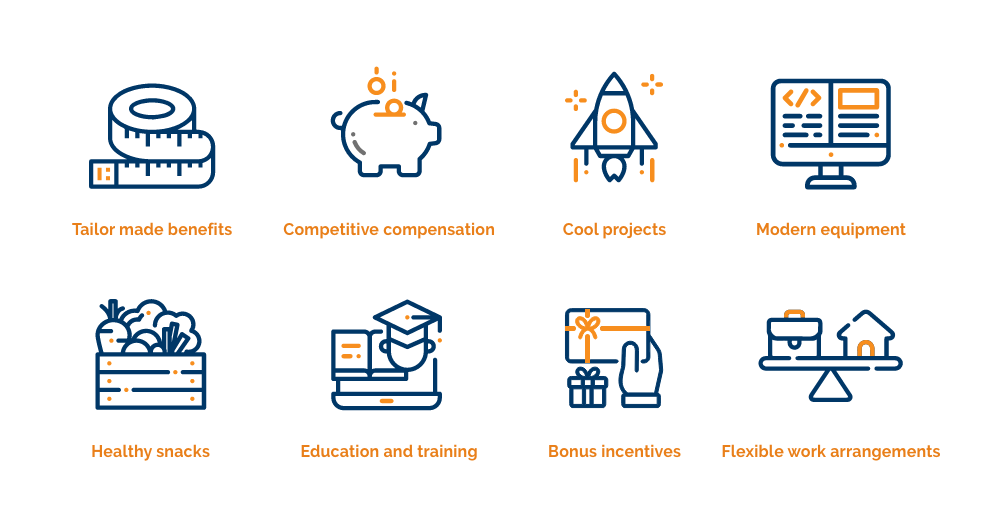 Apply now and kick-off your career success!