Are you ready to challenge your tech know-how with us? Do you like building data systems and pipelines? Do you enjoy interpreting trends and patterns?

iOLAP is expanding its Data & Analytics team with an exciting new opportunity! We are looking for a skilled individual to contribute to our success and growth as a Data Architect!
Data Architect will help us build a future-proof cloud architecture & infrastructure that enables streamlined ingestion, processing, storing and consumption of data from all existing and prospective businesses and data sources.

You'll be joining a team of equally passionate and skilled engineers, architects, and cloud gurus who are working with the latest technologies on some of the most interesting projects!
What you will be doing as a Data Architect at iOLAP?
Providing technical leadership and direction that will help revolutionize the way to leverage data
Outlining data security and data governance best practices
Designing conceptual and logical data models and flowcharts
Developing database solutions to store and retrieve company information
Analyzing structural requirements for new software and applications
Designing and building platforms and supporting application migrations
Creating integrated data pipelines, APIs, and microservices ecosystem
We build with:


Competencies and skillset we expect you to have to successfully perform your job:  
Previous Data Architecture experience
Understanding of data modeling and data architecture design
Solid knowledge of SQL
Familiarity with Python
Familiarity with the concepts and best practices of ETL
Understanding of cloud technologies (AWS or Azure)
Bonus points if you have: 
We could be a perfect fit if you are:
Wonder why iOLAP is the best place to work?
"Not everyone fits the mold." Therefore, we provide a flexible, custom benefit system for our employees. You can choose a perfect combination from a wide range of various benefits. We want you to be a part of our mutual growth since day one, and we created a generous Employee Stock Options Grant for you, as well as participation in our Employee Share Purchase Plan (ESPP). Maybe you care about your health, and you want to monitor it year-to-year so you can choose a full medical checkup. If you are a sports enthusiast, then a Multi-sport card is the right benefit for you. To cover your passion for the technology, we offer an additional individual budget for the extra equipment. We are trying to assure you are fairly rewarded for your achievements and efforts 😊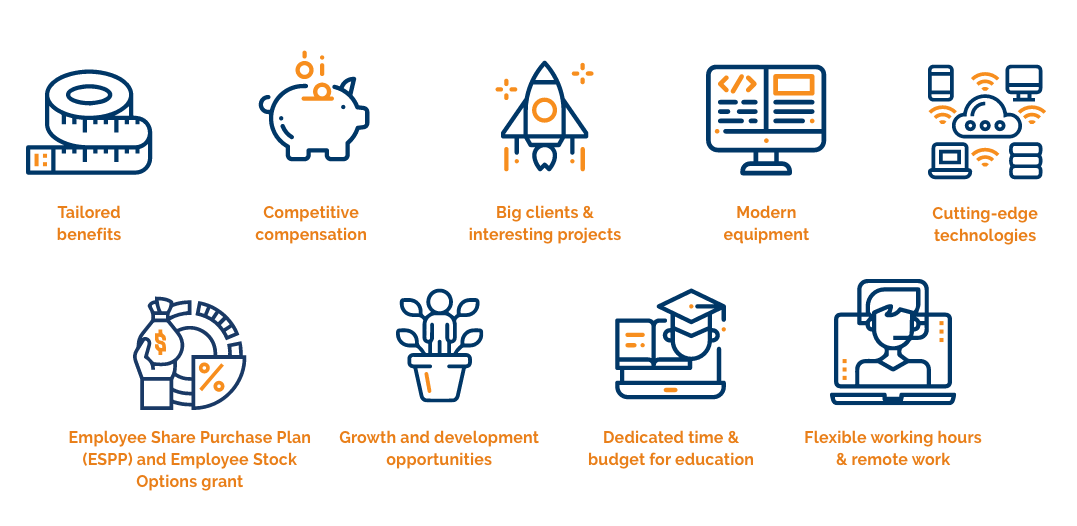 Intrigued? Apply now!